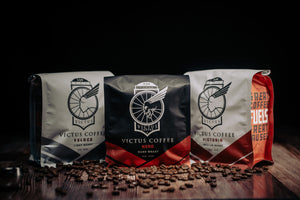 Coffee Excellence With a Purpose
EVERY SIP GIVES BACK
GREAT COFFEE FUELS GREAT CAUSES
We pledge a portion of proceeds from every bag of coffee to great causes locally & globally that promote wellness & advocacy.
SEE OUR IMPACT
visit us
Drink Great Coffee in West Hartford Center
Come visit us at 58 LaSalle Road in West Hartford, CT. We've got a great selection of coffee beverages, all made with our Victus Coffee blends.
Let's Go!
Each of us has a purpose.
Ours is to roast great coffee that fuels great causes.
What's yours?
Backed by 15+ years of roasting expertise, each cup of Victus Coffee is full of the exceptional natural flavors you need to fuel your purpose.
Read Now:
The Fuel Your Purpose Series
We're chatting with fascinating people from all walks of life about their purpose, what motivates them, their love of coffee, and so much more.
Check It Out